Sky Q
We have had a strong working relationship with Sky for many years and have been approved to carry out work on their behalf.
Sky developed a new service called Sky Q which provides an even more advanced interactive service for their customers. We worked with Sky to ensure customers who were connected to a communal TV system were able to receive this new service.
We worked with Sky to upgrade the communal TV systems for Wandsworth Council therefore allowing residents to receive Sky Q in their homes without the need for unsightly individual dishes.
All of our work is carried out to the highest standards and the works are signed off by Sky who ensures we maintain our and their high standards. All of our work meets the requirements of Sky and the Confederation of Aerial Industries.
What do we have to do to upgrade a communal system?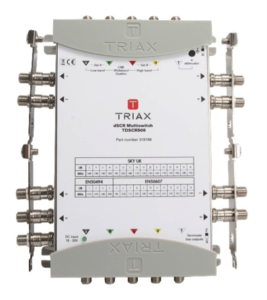 Many systems were installed before Sky Q became available therefore we have to upgrade the system to enable customers to receive the Q signal in their home. This is achieved by upgrading the existing electronics to Sky Q compatible equipment.
We will either use Sky provided equipment to add Sky Q compatible switches to the system or we may do a full upgrade. For the provision of equipment we work closely with our supplier Triax.
What if I live in a communal block and want to subscribe to Sky Q?
If you receive your TV signal from a communal TV system and want to upgrade to Sky Q please contact our Customer Service Team by email or call 0345 230 0028. 
Our Customer Service Team will be able to assist you and advise what you need to do to receive Sky Q in your home.